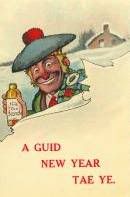 A guid new year to ane an' a'
An' during a' the years to come,
An' may ye ne'er hae cause to mourn,
To ane an'a baith great an' sma'
In translation reads:
A good New Year to one and all
And many may you see,
And during all the years to come,
Oh happy may you be.
And may you never have cause to mourn
To sigh or shed a tear;
To one and all, both great and small
A hearty good New Year!
Slainte!